Welcome to Rancho Grande. We are excited to host your stay and want you to make the most of it. Rancho Grande is a family-owned and operated venue hosted by Richard Murad and his wife Linda and their three children, Alex, Shelly, and Jack. Richard is the former CEO of Murad Skincare. He retired in 2017 after 25 years of service. He also owns Beach City Baseball Academy a baseball school in El Segundo known for its competitive teams and first-class training.beachcitybaseballacademy.com Linda is the President of the Second Date. A personalized dating service for people that want more focus then an online experience can provide.
We have three separate places to stay, two beautiful Safari tents with King Size beds each in its own private area of the ranch with common shared kitchen and a separate, locked and private bathroom just for each guest and their friends and family and a 2 bedroom Cabin complete with kitchen and bathroom situated in the middle of the ranch. Below are the Airbnb listings: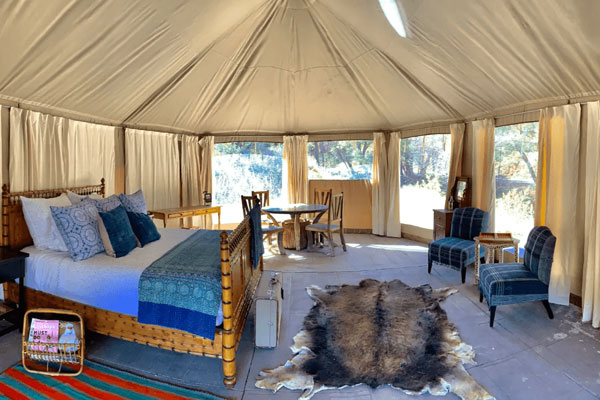 Rancho Grande Howard Creek
The most important thing to know is that we are here to make your experience happy. Don't be afraid to ask us for anything that you might want. Conversely, we will do our best to leave you alone if there's nothing you want or need so that your stay can be private, confidential, and free from interference. We want our guests to have a wonderful time away from the city. We encourage everyone to enjoy the outdoors in this special place.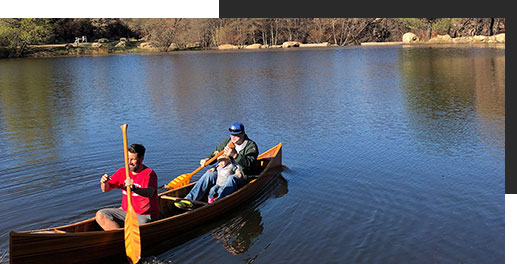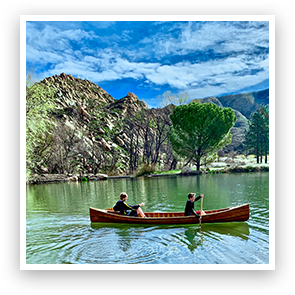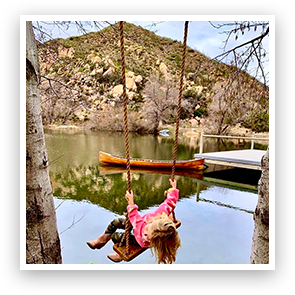 Rancho Grande is a 200 acre, one of a kind off the grid and fully self-sustainable preserve located in Southern California in the mountains above the City of Ojai. The ranch is on a secluded and private valley 3,500 feet above sea level completely surrounded on all sides by the mountains of the 1.7 million-acre Los Padres National Forest.
Home to historic century-old log cabins that still provide shelter and surrounded by majestic hills, mature trees, running creeks and lakes naturally stocked with local catfish and bluegill. Rancho Grande homes an eclectic family of alpacas, goats, lambs, chickens, horses, cows, parrots, pigs, dogs, cats and humans, all of whom live in peace with the forest, the surrounding communities and the abundant natural wildlife that also call Rancho Grande their home. Rancho Grande is a place where people can come to unwind. Just two hours from Los Angeles and 45 minutes from Santa Barbara, Rancho Grande is the only private property insight providing a level of privacy not found elsewhere.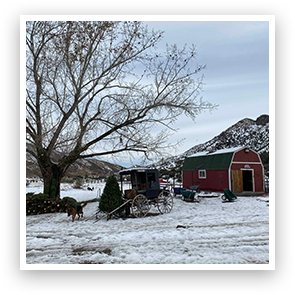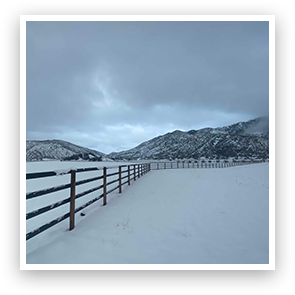 Millions of years ago when dinosaurs roamed many parts of the planet, Southern California was thousands of feet below the sea. Teutonic forces and underwater volcanoes eventually lifted Ventura County to the light of day some 42 million years ago, only to be inundated by the sea again, and then resurface about 2 million years ago. There are many fossil rocks on the ranch containing fossilized shells from that time long ago when the ranch was underwater. Keep your eyes open to find them.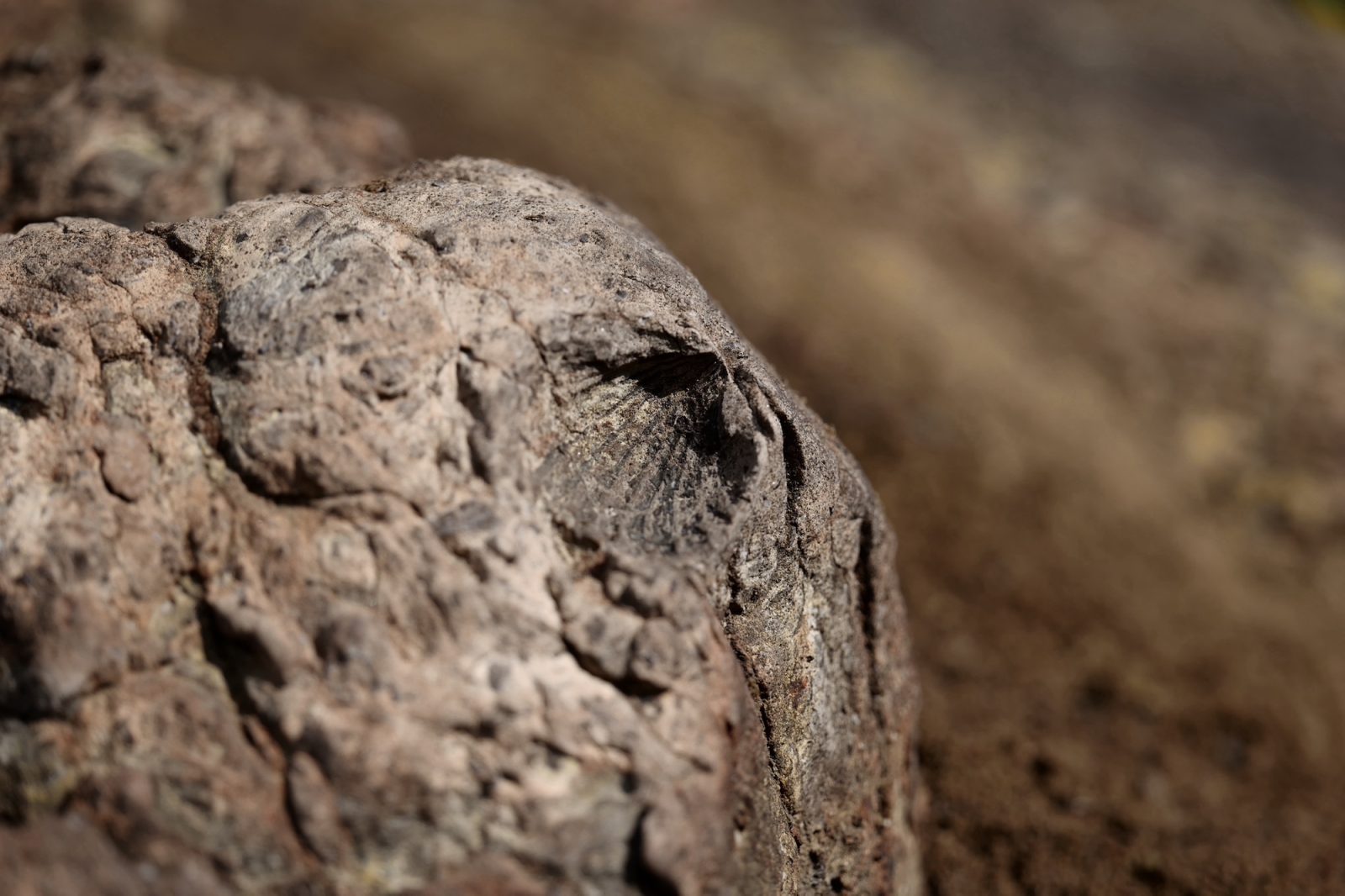 At some point, pines and grizzly bears appeared followed by American Indians. The Chumash were Ojai's first inhabitants, living here for thousands of years before European explorers arrived. Remnants of the Indian presence appear throughout the ranch. Ask us to show you the Chumash kitchen that remains on the ranch.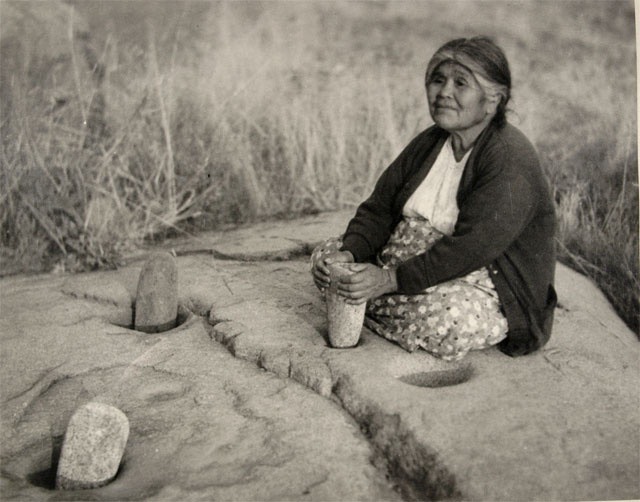 By the 1800s, settlers were claiming land for mines and cattle ranches and doing what they could to tame Ventura County's backcountry and Rancho Grande was put on the map. Rancho Grande is one of the oldest cattle ranches in California established around 1870 by the notorious Jeff Howard. Howard was a rancher that it is claimed would murder anyone that dared to cross him and his path, Howard was on the run and escaped from prison a few times before being captured again and sent to prison for the murder of a sheepherder that he found on the ranch the exact location of the murder is a secret and we do not know it.
(photo courtesy http://ojaihistory.com)
Rancho Grande predates the creation of the National forest by many years. That is why it can be privately owned in the middle of the National forest. It has been operated as a mountain cattle ranch with other ancillary uses continuously since its creation. The creek crossing through the property is aptly named Howard Creek. It runs all year round and in the rainy season, it becomes a raging whitewater cascade to the Sespe River. Aside from cattle, the ranch was used for the forest timber and sheep grazing.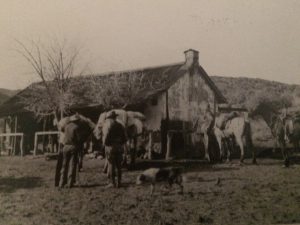 (photo courtesy http://ojaihistory.com)

The best way to find Rancho Grande is to google the words "Rancho Grande Ojai" the map will take you right to our gate. The drive is very easy and pleasant. Just keep it slow and pull over if someone is on your tail. There are many areas where you can do that. If google fails you then from the 101 freeway, take the Ojai exit on route 33. Drive up to the town of Ojai (about 10 miles) but not through it. You will continue to bear left and stay on route 33 for about 15 miles until you reach the Ranch. You will first pass the Vons supermarket and Nordoff high school. Keep going up the mountain through three tunnels, a sign that says 2,000 feet elevation and a sign that says 3,000 feet elevation. At that point, you are very close to the Rose Valley exit. Take the Rose Valley exit on your right and drive exactly 1.1 miles to the ranch gates.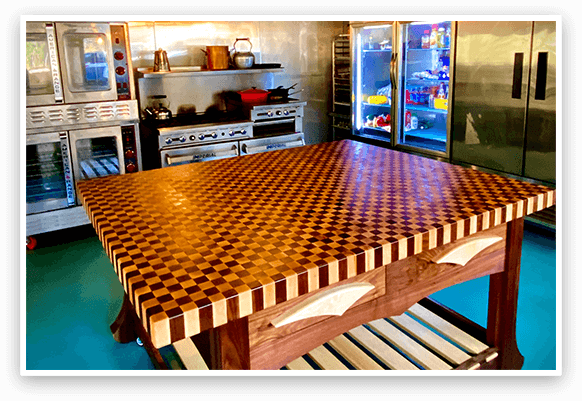 We do not stock food for our guests. Please be sure and bring everything you need for your visit. You might want to stop at the Vons supermarket in Ojai, just before you head up the mountain on your way up for provisions. We have a refrigerator and freezer dedicated to guests where you can store anything you like. We also have a guest kitchen where you can cook and an outdoor fire pit to grill. If you are staying in the two-bedroom cabin, it is equipped with a full service kitchen as well. If you tell us in advance, we can get food for you and stock the kitchen with it for your arrival. Ojai Food Taxi (1.805.633.4125) delivers from many restaurants in Ojai to our Ranch. We like Ojai Pizza and Sea Fresh. To plan ahead and review menu options please visit their website here: ojaifoodtaxi.com
Please be sure and keep your feet dry with ankle-length hiking boots if possible. In addition to the stream and ponds, there are places on the ranch where water runs year-round that you might cross. Pack a flashlight. Bring bug spray if possible. In hotter weather, it can be buggy here in the mornings until the mountain winds kick in and blow everything away. We have clean towels, clean bedding, and toiletries such as shampoo and soap. We also have the necessary first aid supplies. If you are staying the week, we can also do laundry for you to make it easier to pack less. Bring all the food and water you are going to need to avoid having to make a trip to the market and waste time. Rancho Grande is a first-class, five-star location but the dress code is casual. You will get dirty here. For sun protection please ask us to borrow one of our many cowboy hats to use during your stay.
For local weather at Rancho Grande please use this forecast as the high elevation and the mountains make our temperature very different (and happily a lot cooler in the summer) then the town of Ojai.
During your stay, you are welcome to wander around and visit any part of the Ranch. In addition to the kitchen, we have a well-stocked guest play area called the Rock Room. You can spend time playing the piano or billiards or ping pong or just watch TV.The room also has a library for your reading pleasure. All our animals are easy going and friendly. You may feed them fruit and vegetables if you like. If you want a close-up experience, Alex will be happy to show you around and bring you into the pens. Keep your eye out for the daily Goat Walk which takes place in the afternoon. The 70 goats leave their area and travel to the back of the ranch for lunch and a cold drink of fresh mountain spring water from an 850 footdeep well.
Guests are provided with a John Deere Gator to get around the ranch. It's a golf cart on steroids. We had an accident a few years ago with kids going a little crazy and driving into a wall resulting in broken bones. Please use caution and drive safely. No one under 16 is allowed to operate the vehicles.
Our equestrian guides will coordinate a horseback ride on the ranch for almost any age and skill level. We also offer an Eco Tour on horseback providing fun educational information on the flora and the fauna, both native and invasive, to Rose Valley. Other services include horsemanship lessons (catching, grooming and equine care) and ground work lessons (working with the horses on lead rope, not on horseback). We can tailor unique experiences for all our guests depending on skill. All horse activities are $75 per horse per 45 minutes.
Sometimes it gets very cold at night. If you are in need of a warm jacket or more blankets or a sleeping bag, please just ask.
Rancho Grande is an eco-friendly Green location. We are completely off the grid. That means we make all our own electricity and provide our own water supply from deep underground. While the water is safe to drink it does contain a variety of minerals and we prefer to use bottled water. If we lose power just stand by, we have a backup generator that will likely go on very soon, WiFi is available by the cabins. Ask for the password if you want to use it but we urge you to use this off the Grid time to stay off the Grid. In an emergency, we have a landline telephone that you can use. It's in the main cabin. just ask for it if you need to make an emergency call. If you want to leave a number where someone at home can contact you in an emergency please give them this number (805)633-4125. It will reach our main cabin and we will get the message to you.
Here are some good links to nearby hikes. We also have access in the back of our ranch to Nordoff Peak which provides incredible views of the ocean and town. You can choose to go straight up the fire break or a slower trail that zig zags to the top called the Howard Creek trail.
See the Alltrails.com website for more information about this trail and others close by.
https://www.alltrails.com/trail/us/california/howard-creek-trail
Please contact us the day before your arrival. You are free to arrive as early as 9 am to enjoy the full day at the Ranch. If the room you are taking is empty then you can use it immediately. If there is someone else occupying the room, then your space will be ready at 12pm. Same with checkout. If we do not have another reservation behind you, please enjoy the room the entire day. If we do have another guest coming, then please leave the room by 11 am but enjoy the entire day at the ranch anyway if you like.
We want to remind everyone that while it is very safe in the forest you are in the forest. That means there are animals that share our home including bears and rattlesnakes. It's very unlikely you will see a bear as they are shy, but it is possible especially during the summer season when we see their tracks. Please keep all food out of the tents as the smell of any kind of food could become an attraction to the Bear.
Please read bear safety information here:
nps.gov
As to Rattlesnakes, if you see one just walk away. they do not chase people and want to be left alone. The only possible way you could be bitten is by stepping on one or being very close to one. That means stay out of grassy areas where you cannot see the ground and wear high boots and pants whenever possible. If you do see a snake, let us know where you saw it and we will try to remove it.
In the unlikely event that there is a fire please assemble by the cabins and we will have the latest news. Rancho Grande has so much cleared area that it was designated as the Fire staging center for the entire area of the forest during the recent Thomas Fire, a massive wildfire that affected Ventura and Santa Barbara Counties, burning 300,000 acres. The ranch hosted hundreds of fire personnel coming and going day and night and living here for several weeks during the fire because of the safety that the ranch provides. Please do not light any fires anywhere except the fire pit by the kitchen and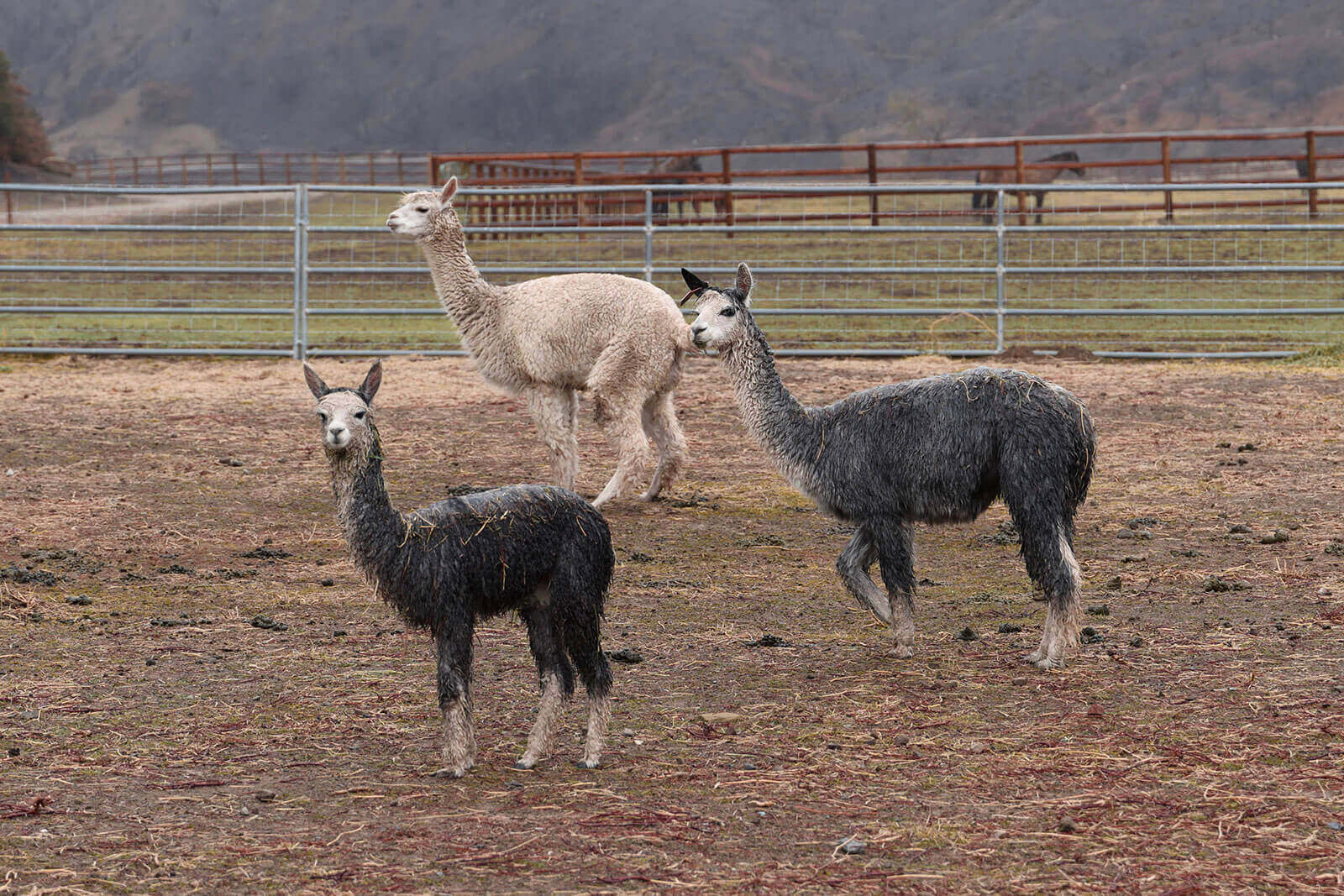 With a little notice, we can provide just about anything for your stay. Ojai is known as a place that is filled with wellness and spiritual professionals. In that regard, we can provide top-rated massage and facial experts to serve you in comfort and privacy at the Ranch. We also can provide Yoga and Pilates instruction as well as fitness and nutritional guidance. We can even provide spiritual guidance from the leader of the local Chumash tribe who can lead you to a special awakening with a sunrise prayer service. All of these have additional charges associated so please ask and give us time to make the appropriate reservation.
Rancho Grande is a very special place. We are proud to share our home in the forest with you. We appreciate the responsibility we have to make your stay the best and safest it can be. Please help us by paying attention to your surroundings but also letting go and enjoying your stay. Stop sometimes and please take the time to listen to the wind blow the Pine trees by the lake, look up at the black sky and see all the stars you miss living in the city, interact with a cow and her baby, feed the chickens and pigs, keep your eye out for the pink sunsets that come and go fast, find a million year old fossil, try hard to pet an alpaca without getting spit on and most importantly have fun.